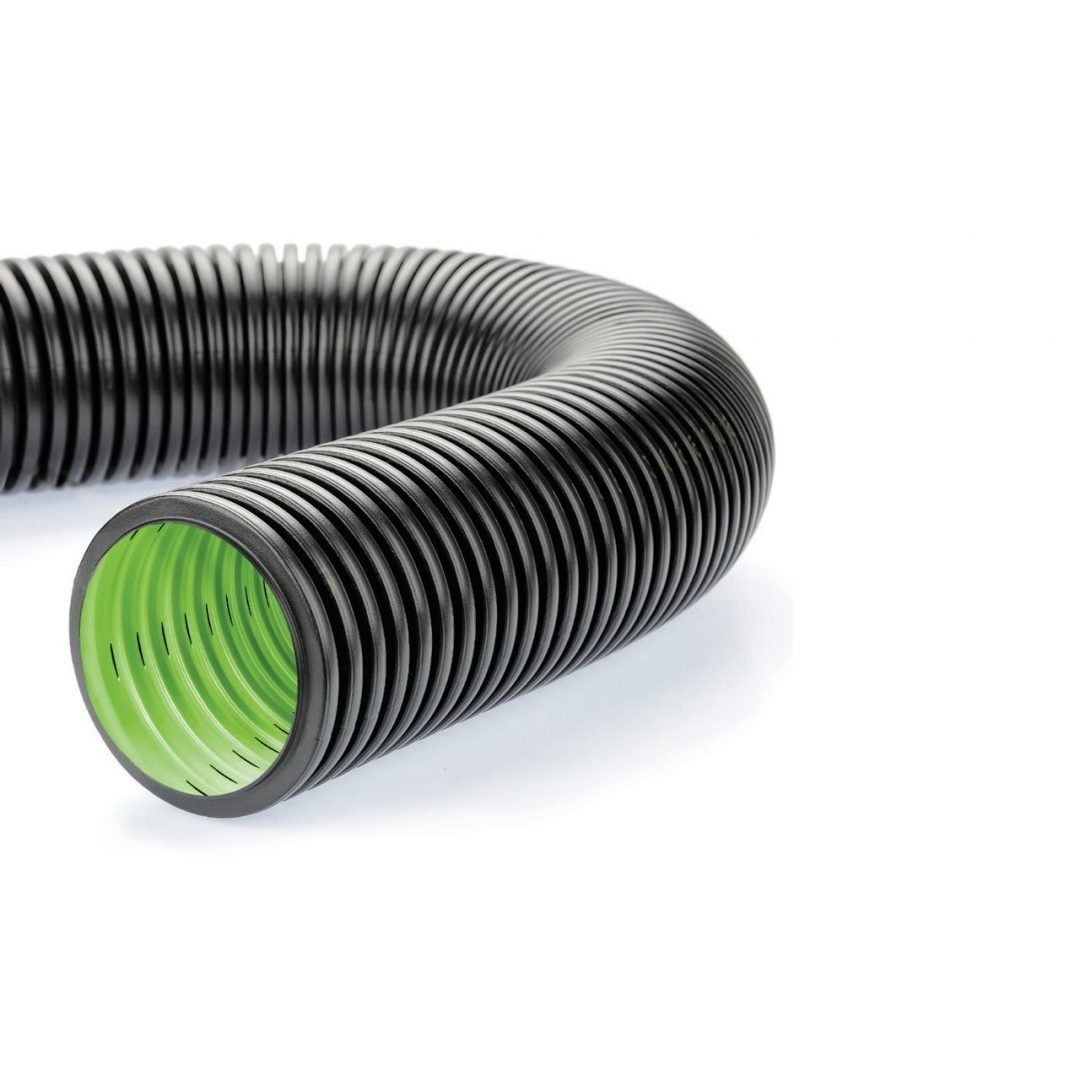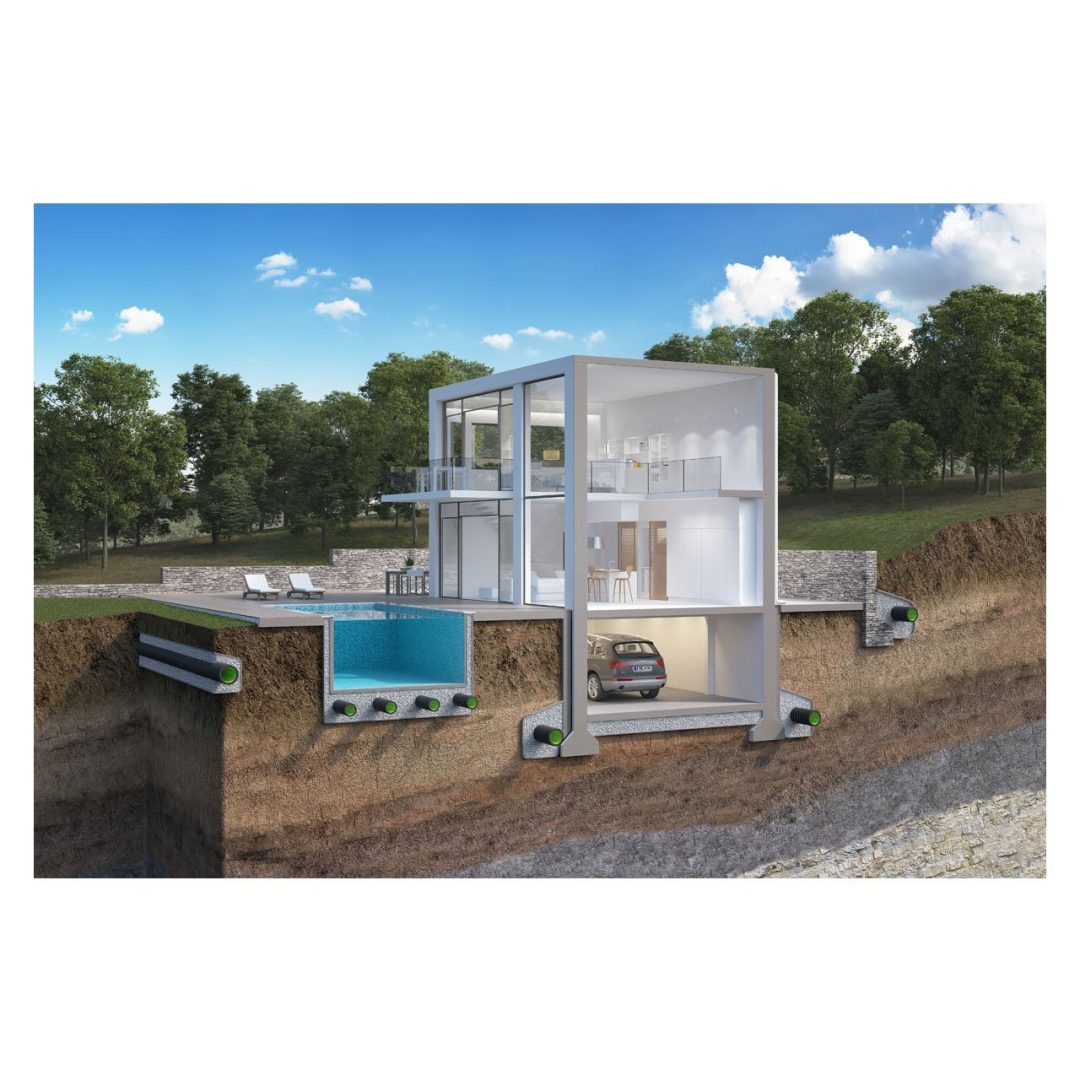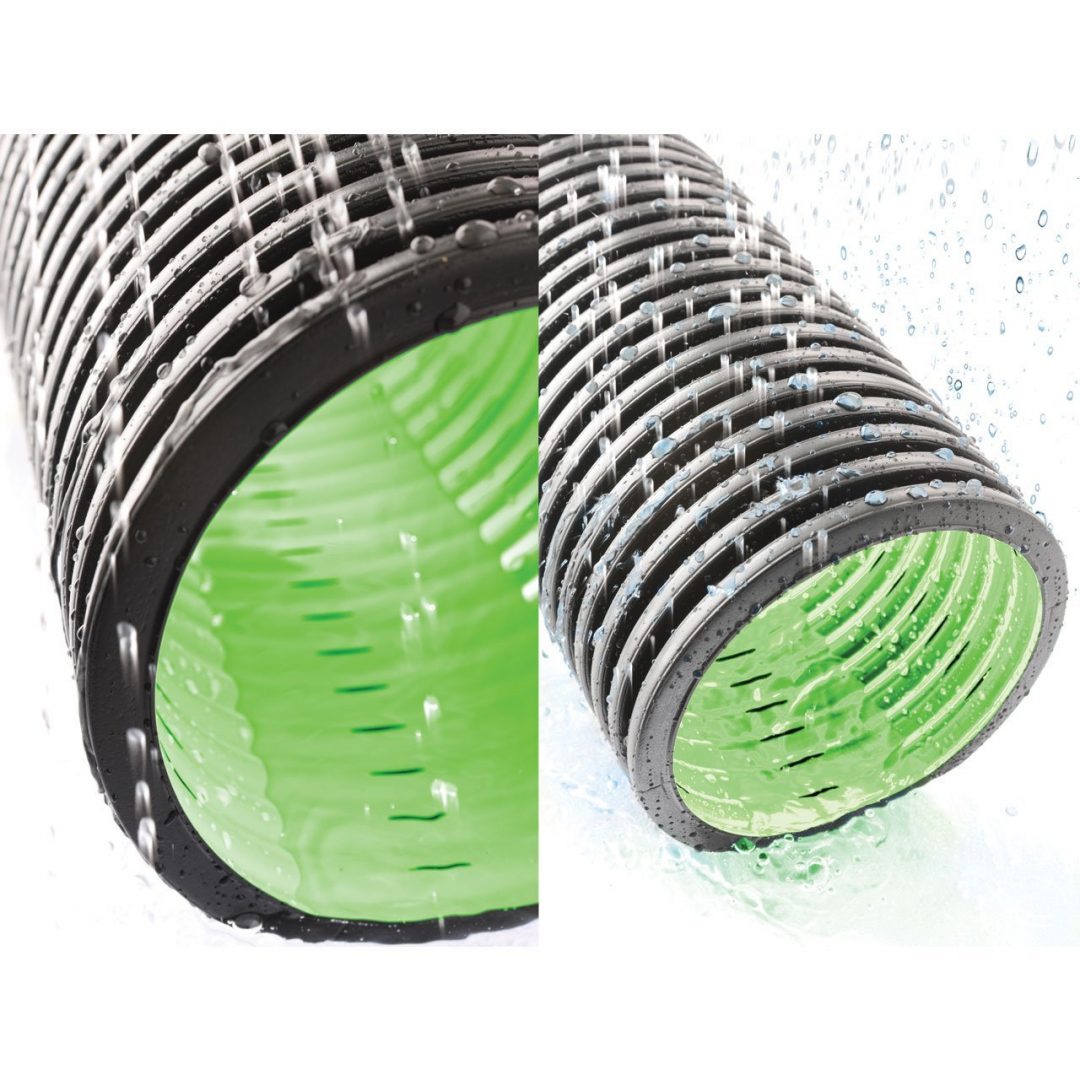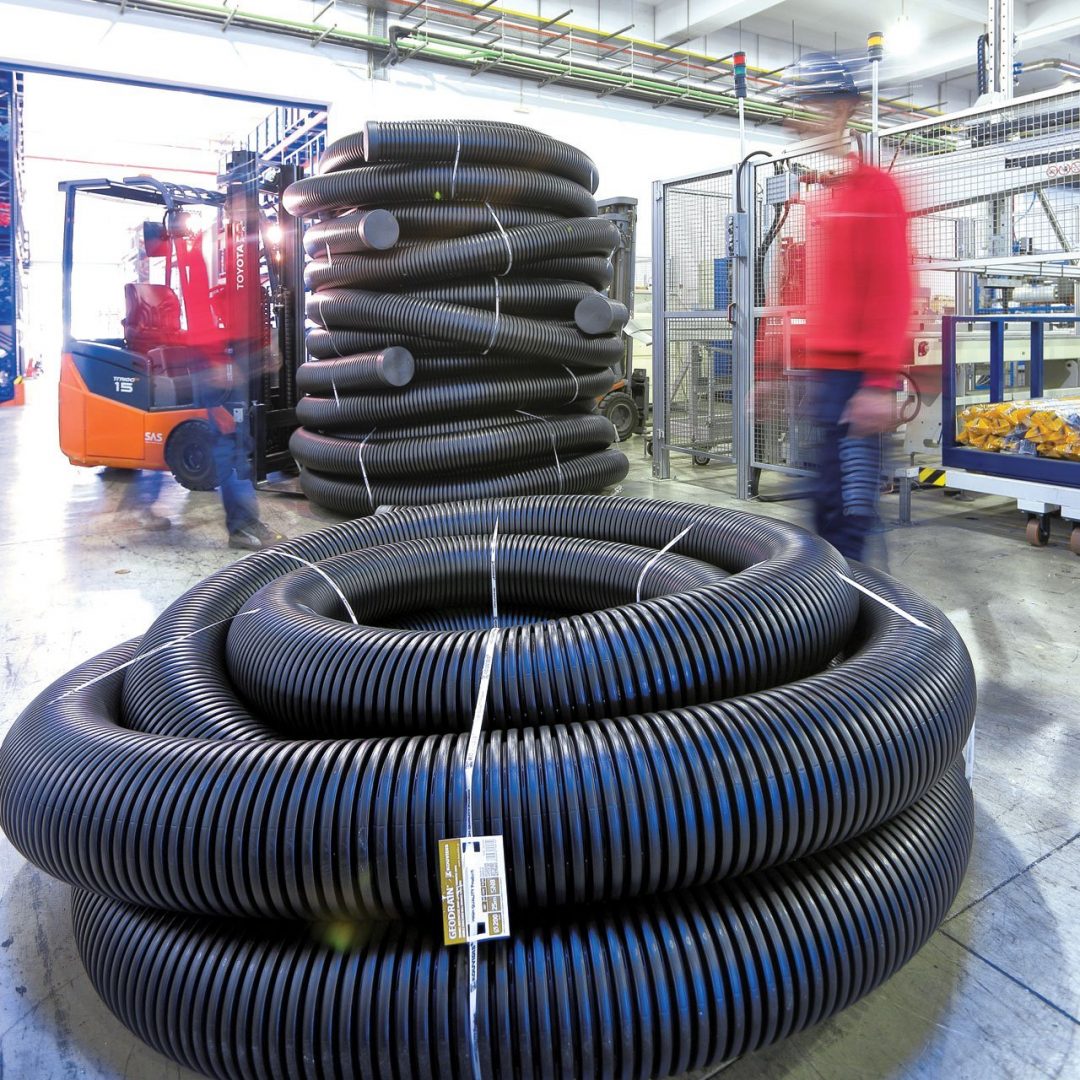 GEODRAIN
Double structured perforated wall pliable conduits
GEODRAIN perforated rigid pipe is produced in coils of 50m, with SN4 and SN8 ring stiffness. It has two walls, a corrugated exterior and a smooth interior, structured together and symmetrically perforated at 3600. Its outer wall is corrugated so that it can be installed more easily following the soil morphology, and its inner wall is smooth to facilitate the flow of water. Its much lower weight facilitates its loading and transport, while is also easy to cut without the use of tools. KOUVIDIS is the only pure Greek company which has developed the perforation technology in double structured wall pipes.
APPLICATION FIELD
They are suitable for subsoil drainage in all types of residential buildings, stadiums and surrounding areas, industrial and commercial applications, photovoltaic parks, agricultural applications, landfills, uncontrolled landfills and road networks.
APPLICATION STAND:

EN ISO 9969, DIN 4262-1 (Reference Standard)

INSTRUCTIONS FOR COMPLIANCE:

2011/65/EU(RoHS)

COLOR:

RAL 9004 Black, RAL 6038 Green

PUNCHING DEGREES:

360o

NOMINAL DIAMETER:

Outer (DN/OD)
Product with extra UV stability

Product is made of halogen free raw materials – absence of fluorine, iodine, bromine, chlorine, etc (ΕΝ 50642)

Nominal outer diameter (mm)

Chemical resistance ISO 10358

Product type DIN 4262-1

Punching Degrees

Ring Stiffness
PROPERTIES
CHARACTERISTICS
PACKAGING
DOWNLOADS
PROJECTS
1
SN 4 | SN 8 Ring Stiffness according to EN ISO 9969
2
It has a total perforation of 360
o
carried out by advanced machinery along its entire length
3
Printed with indelible color and packed with BLACK safety straps
4
It has corrosion resistance
5
Exceptional resistance to solar radiation thanks to the aging stabilizers incorporated in the raw material of its outer wall
6
Its much lower weight facilitates its loading, transport and storage
7
Each coil includes a connection coupler and an end cap
Properties
Reference Standard
DIN 4262-1
Type
R2 (DIN 4262-1)
Raw material
Halogen free, heavy metals free (RoHS) and specially stabilized thermoplastic HDPE
Ring Stiffness (EN ISO 9969)
SN4 | SN8
Ageing resistance
2 years
Chemical resistance (ISO 10358)
Yes
Degrees of perforation (DIN 4262-1)
360ο – TP (Totally perforated)
Perforation area (DIN 4262-1)
>50cm /m
Nominal diameters (mm)
Outer (OD): 63, 75, 90, 110, 125, 160, 200
Packaging
coils of 50m and 25m
Connection technology
Available with a protection cap at the one edge and a connection
coupler at the other.
| | | | | | | |
| --- | --- | --- | --- | --- | --- | --- |
| Part number (SN4) | Part number (SN8) | | | Bending radius | | |
| 2633063 | 2613063 | 63 | 47 | 0.25 | 50 | 14000 |
| 2633075 | 2613075 | 75 | 56 | 0.30 | 50 | 10000 |
| 2633090 | 2613090 | 90 | 74 | 0.36 | 50 | 7000 |
| 2633110 | 2613110 | 110 | 91 | 0.44 | 50 | 4500 |
| 2633125 | 2613125 | 125 | 105 | 0.50 | 50 | 3500 |
| 2623160 | 2603160 | 160 | 135 | 0.64 | 25 | 1900 |
| 2623200 | 2603200 | 200 | 170 | 0.80 | 25 | 1225 |