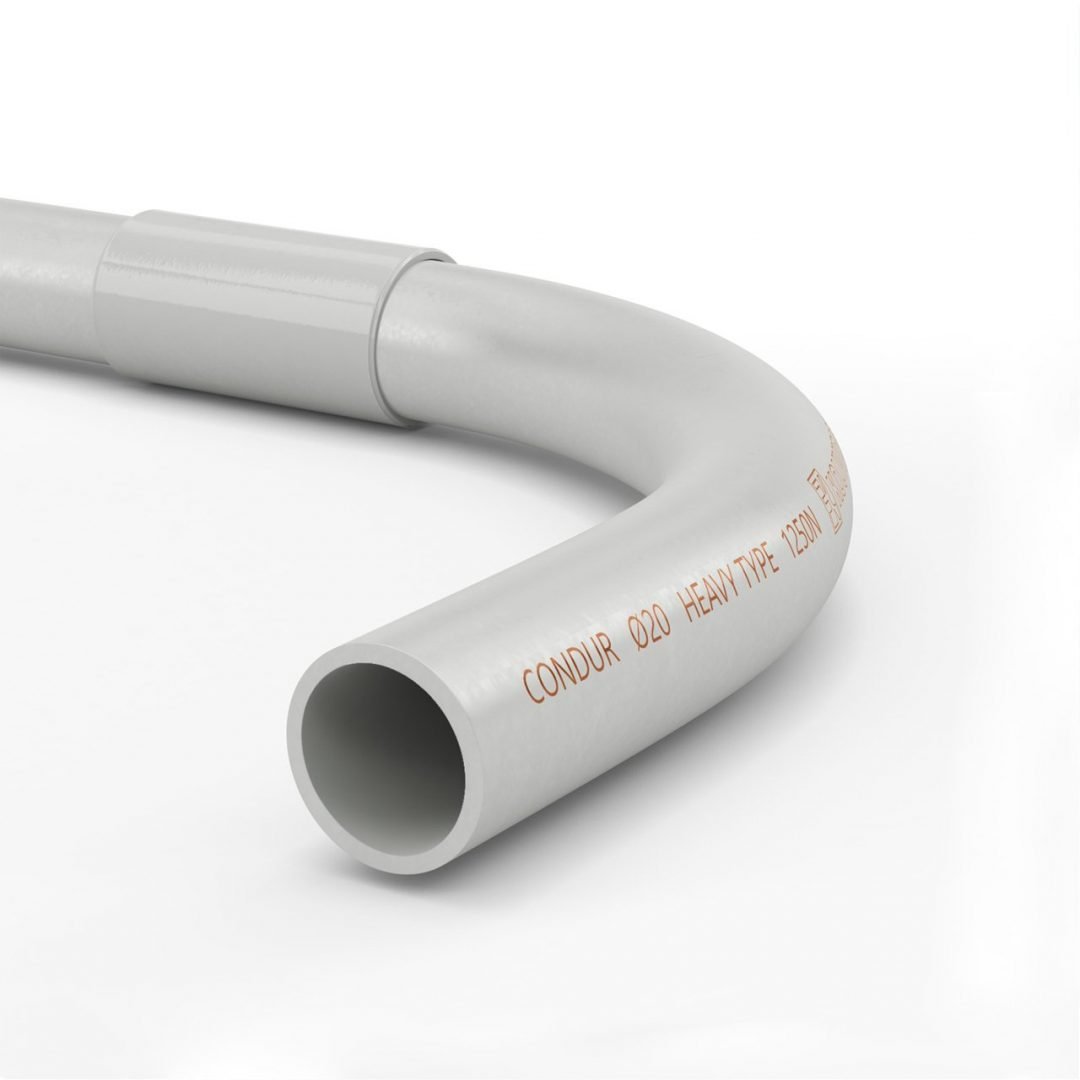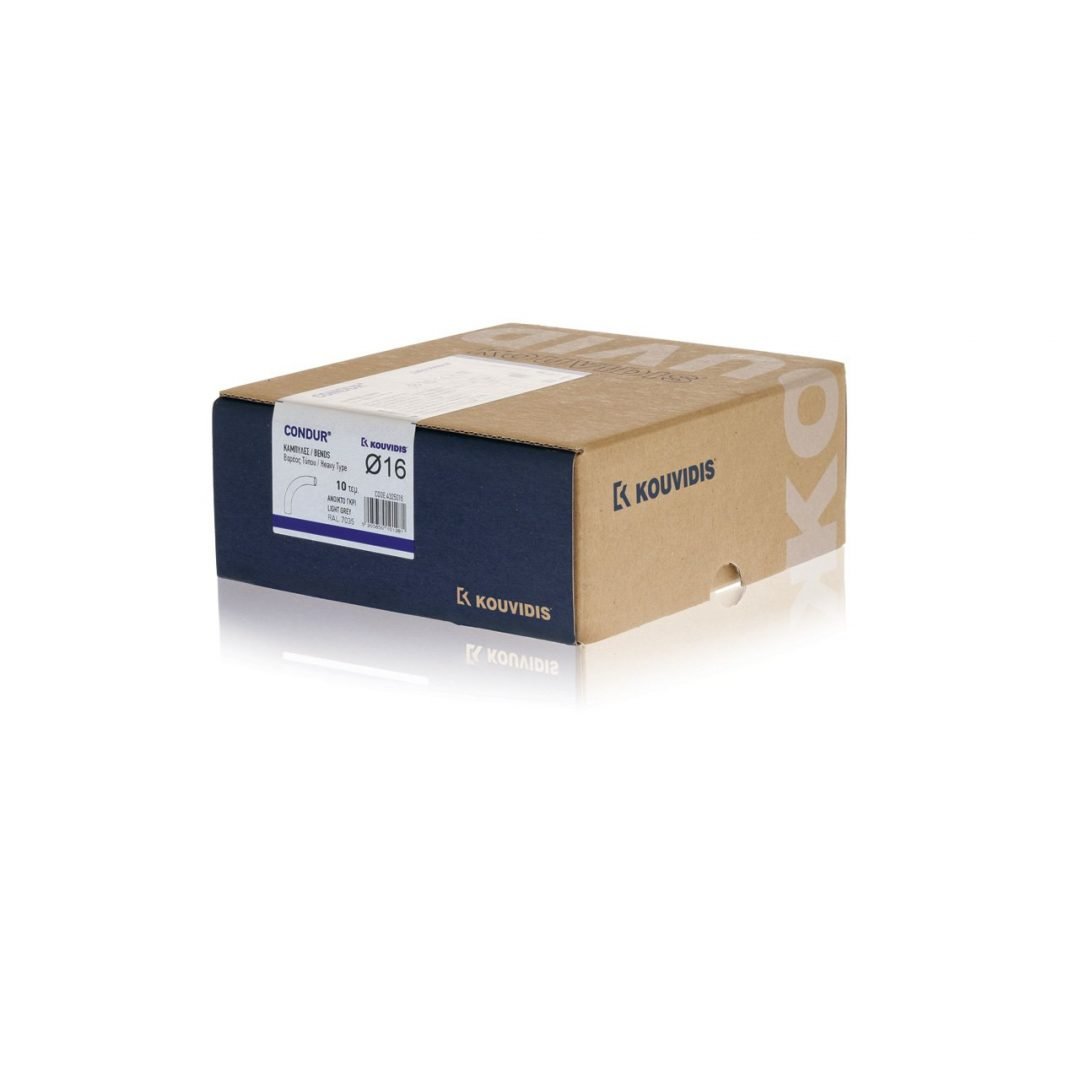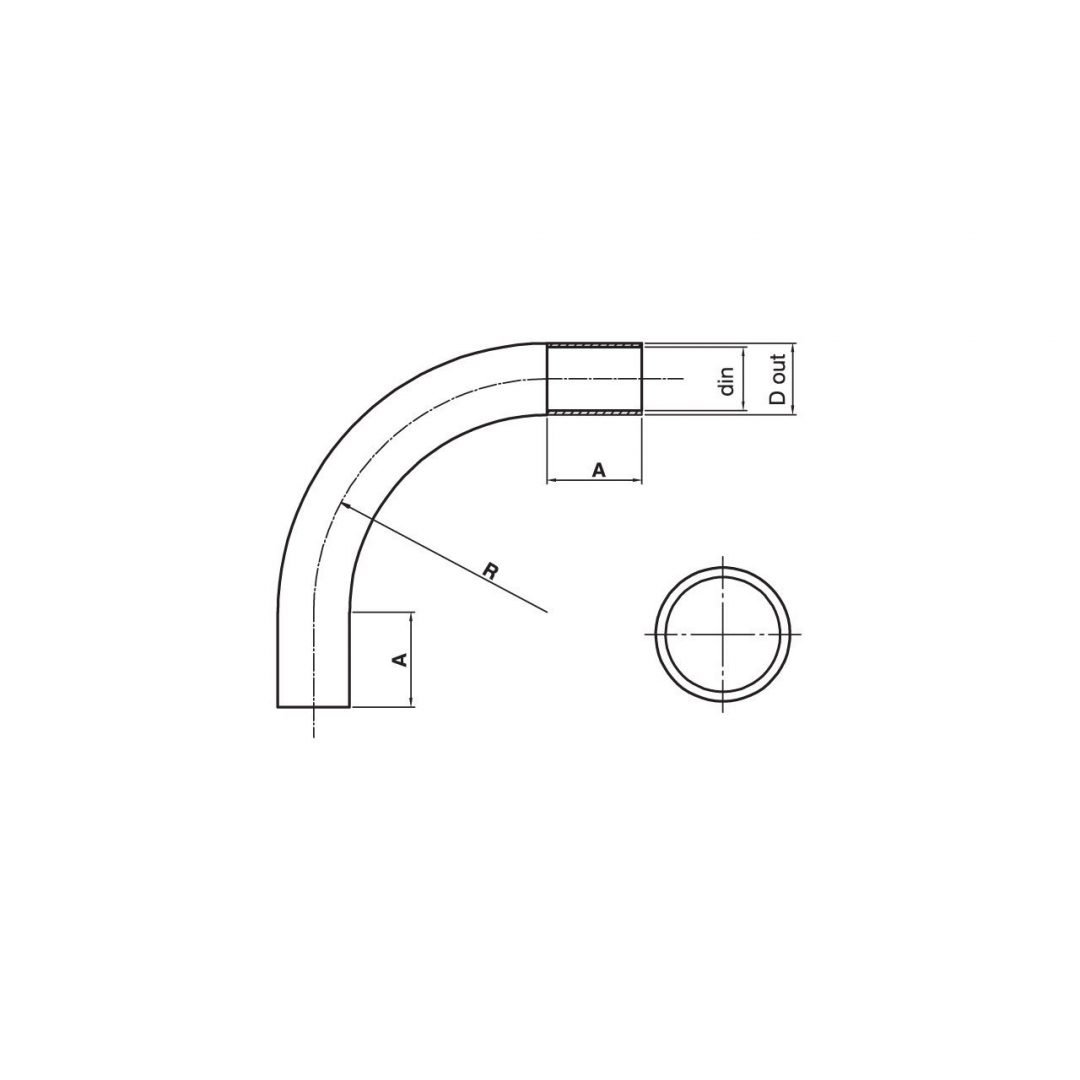 CONDUR
Heavy type bend
IMPACT RESISTANCE:

6J

RESISTANCE TO COMPRESSION:

1250 Nt
CONDUR bend is a part of CONDUR – CONFLEX conduit system for cable management and protection. It has the same properties as CONDUR conduit and is produced by a fully automated production line.
ΠΕΔΙΟ ΕΦΑΡΜΟΓΗΣ
Ideal for outdoor exposed installations which require increased safety measures and high mechanical requirements such as civil engineering (industrial buildings, infrastructure projects) and electric power stations. It doesn't attract rodents and is the ideal solution for outdoor installations through its exceptional resistance to UV radiation. Their high impact strength, at low temperature environments, make them also ideal for cold weather conditions.
APPLICATION STAND:

EN 61386.21

INSTRUCTIONS FOR COMPLIANCE:

2014/35/EU(LVD), 2011/65/EU(RoHS)

COLOR:

RAL 7035 Light grey

NOMINAL DIAMETER:

Outer (DN/OD)

TIGHTNESS DEGREES:

min IP 65
Product Conformity to all requirements of relative European Directives.

The product and its production process are inspected and approved by VDE German institute

Minimum compression strength

Minimum impact strength

Min-max permanent application temperature

Ingress protection against solid objects and water (EN 60529)

Product with extra UV stability

Non flame propagating product

Product is not an attractive food to rodents
PROPERTIES
CHARACTERISTICS
PACKAGING
DOWNLOADS
1
Exceptional resistance to UV radiation >10 years
2
Not attractive to rodents (European Patent EP2698792)
3
High ingress protection (min IP65), when connected with CONDUR coupler
4
High compression (1250Nt) and impact (6J) resistance, (heavy type) in low temperature of -25
o
C
5
It has been tested and certified by VDE German Institute
6
Engraved with laser printing and packed in 100% recyclable packaging for their maximum protection.
| | |
| --- | --- |
| Properties | |
| Resistance to impact | 6J (at -25oC) |
| Lower temperature range | -25oC |
| Upper temperature range | +60oC |
| Electrical characteristics | With electrical insulated characteristics |
| Protection against ingress of solid objects | min IP65 |
| Protection against ingress of water | min IP65 |
| Resistance to flame propagating | Non flame propagating |
| | |
| --- | --- |
| Additional properties | |
| Raw material | Heavy metals free (RoHS), specially stabilized thermoplastic U-PVC |
| Ageing resistance | UV stabilized>10 years |
| Rodent repellent | Not attractive to rodents |
| | | | | | | | |
| --- | --- | --- | --- | --- | --- | --- | --- |
| Type | Part number |   | | | | | |
| Ø16 | 43250160 | 16 | 12.1 | 27 | 59 | 10 | 480 |
| Ø20 | 43250200 | 20 | 16.1 | 35 | 74 | 10 | 480 |
| Ø25 | 43250250 | 25 | 20.9 | 36.7 | 108 | 10 | 240 |
| Ø32 | 43250320 | 32 | 27.5 | 47.6 | 142 | 6 | 48 |
| Ø40 | 43250400 | 40 | 35.1 | 52.9 | 144 | 6 | 84 |
| Ø50 | 43250500 | 50 | 44.7 | 62 | 175 | 4 | 40 |
| Ø63 | 43250630 | 63 | 57.2 | 77 | 203 | 4 | 24 |