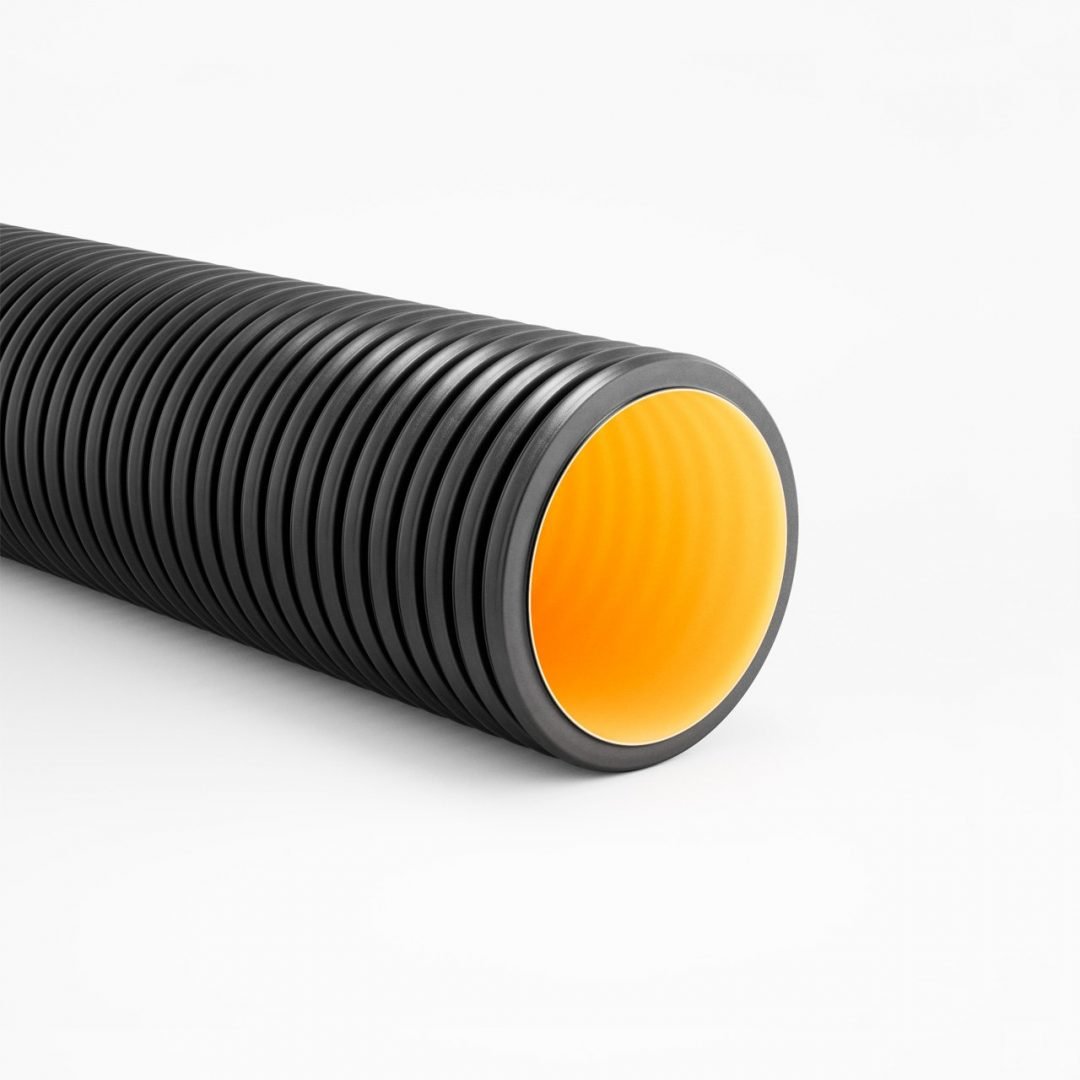 GEOSAN PE
Double structured wall rigid conduit
GEOSAN double structured wall pipes, corrugated outside and smooth inside, were developed by KOUVIDIS in 2012 and presented in the Greek market in 2013 as a safer and more economy solution than cement and PVC pipes. They are produced following the co- extrusion method from specially stabilized raw materials of high density polyethylene (HDPE) and are classified as SN4 and SN8 according to their ring stiffness. They are fully complied with the strict European Standard EN 13476-3 for Plastic piping systems for non-pressure underground drainage and sewerage made of unplasticized polyvinyl chloride (PVC-U), polypropylene (PP) and polyethylene (PE).
APPLICATION FIELD
They are intended for waste water collection in sewage networks as well as for the drainage of stormwater in road networks. They are also suitable for a multitude of free-flow sewage applications, such as in airports, tunnels, parking spaces, structural projects etc.
APPLICATION STAND:

EN 13476-3

INSTRUCTIONS FOR COMPLIANCE:

2011/65/EE (RoHS)

COLOR:

RAL 9004 black (outer layer), RAL 1017 yellow (inner layer)

NOMINAL DIAMETER:

Outer (DN/OD)
Product with extra UV stability

Nominal outer diameter (mm)

The product is tested and inspected by Bureau Veritas institute

Chemical resistance ISO 10358

Abrasion resistance

Water tightness EN 1277

Ring Stiffness

Impact Resistance EN 744

Ring Flexibility EN ISO 13968

Certification Standard (EN 13476-3)
PROPERTIES
CHARACTERISTICS
PACKAGING
DOWNLOADS
PROJECTS
1
SN 4 | SN 8 Ring Stiffness according to EN ISO 9969
2
Ring flexibility RF30 according to EN ISO 13968
3
Exceptional impact strength according to EN 744
4
Their much lower weight facilitates their loading, transport and storage
5
They have excellent abrasion behavior thus preventing the depositing of dirty materials (fat, salts, etc.) in their smooth internal wall
6
The special sealing elastomeric rings, in combination with the geometry of the external wall of GEOSAN pipes, fulfill EN 1277 by ensuring permanent leak-tightness
7
Exceptional resistance to solar radiation for at least 24 months, thanks to the aging stabilizers incorporated in the raw material of their outer wall
8
GEOSAN 2nd generation pipes are manufactured from plastic materials of an exceptional molecular structure which achieve exceptional resistance to diluted acids (pH<2), alkaline solutions (pH>12) and mold according to ΕΝ ISO 10358
9
Made from 100% ecofriendly materials that comply with the requirements of the European RoHS and REACH regulations, regarding the use of chemicals and hazardous substances, respectively, and can be recycled at the end of their product life cycle, without burdening the environment
10
Their light yellow color RAL 1017 (saffron yellow) was selected for the inside of GEOSAN pipes in order to facilitate as much as possible the work of the sewage network cleaning and inspection crews
11
The pipe is formed at its ends during the production process. The female end carries an elastomeric sealing ring at its inner wall while the male end comes with a smooth wall and a smaller outer diameter in order, when connecting each other to achieve a secure connection and the necessary water tightness
Properties
European Standard
ΕΝ 13476-3:2007+Α1:2009
Type
Type Β
Raw material
Halogen free, heavy metals free (RoHS) and specially stabilized thermoplastic HDPE
Ring Stiffness (EN ISO 9969)
SN4 | SN8
Ring Flexibility (EN ISO 13968)
RF30
Impact resistance (EN744)
TIR≤10%
Creep Ratio (EN ISO 9967)
≤4 at 2 years extrapolation
Water Tightness (EN 1277)
No leakage
Abrasion resistant
Yes
Ageing resistance
2 years
Chemical resistance (ISO 10358)
Yes
Application area
Pipes and fittings which are to be used buried in the ground outside a building structure only (at least 1m from the structure).
Nominal diameters (mm)
Outside (OD): 160, 200, 250, 315, 400, 500, 630
Packaging
6m bars (±10mm)
Connection technology
OD 200 – OD 630: An integrated molded socket with a pre-installed elastomeric sealing ring at the end of the pipe is connected with the other, of a smaller outer diameter, molded end.
OD 160: available with an assembled separated molded coupler and an elastomeric sealing ring.
| | | | | | | |
| --- | --- | --- | --- | --- | --- | --- |
| Part number (SN4) | Part number (SN8) | | | | | |
| 1615160 | 1605160 | 160 | 137 | 6.00 | 210 | 2520 |
| 6220200 | 6200200 | 200 | 178 | 6.02 | 120 | 1806 |
| 6220250 | 6200250 | 250 | 223 | 6.00 | 72 | 960 |
| 6220315 | 6200315 | 315 | 278 | 5.98 | 71 | 574 |
| 6220400 | 6200400 | 400 | 347 | 5.94 | 53 | 427 |
| 6220500 | 6200500 | 500 | 438 | 5.93 | 23 | 237 |
| 6220630 | 6200630 | 630 | 542 | 5.90 | 29 | 188 |